Chocolate Hipster Dragon is a dragon from the Game Society series Scribblenauts, who was destined to grow up to become the terror of the kingdom. In order to create an evil lizard, Aaron and Emre puts the noun Hitler in front of the dragon's name. The game did not recognize the term and instead made the dragon a hipster, wearing glasses and a beret.
The Chocolate Hipster Dragon made a comeback when a mortician needed to put somebody of high stature into a sarcophagus. The Chocolate Hipster Dragon was selected after trying other candidates, like a fish, which the mortician did not consider of high enough consequence.
The Dark Chocolate Hipster Dragon was covered in Starbucks napkins and was embalmed with the coolest liquid Aaron and Emre could think of: coolant. He was turned into a Chocolate Hipster Mummy holding a coffee in its hand.
Appearances
Edit
Episode 2 - Unlimited Hipster Dragon
Episode 4 - Madness Engulfed Goat
Episode 5 - Chocolate Hipster Mummy
Mentions
Edit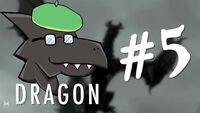 In an episode of Christopher Walkenthrough "How To Train Your Dragon in Skyrim," an illustration of chocolate hipster dragon was used to introduce Tip #5.[1] The chocolate hipster dragon has also been mentioned in a Watch Dogs 2 live stream.[2]
References
Edit
See Also
Edit