The Game Society Pimps is a comedy gaming YouTube channel starring Aaron Yonda and Emre Cihangir.
The Game Society Pimps is based in Madison, Wisconsin and Aurora, Illinois and is most famous for their comedic walkthrough Skyrim For Pimps. Their edited gameplays typically involve original stories and characters deviating from the video game's narrative, often resulting in a humorous yet compelling viewing experience. In addition to their regular edited programming, the channel live streams every week, interacting directly with fans on their Live Show and its After Parties and produces a free monthly podcast discussing the state of gaming, entertainment, and various miscellaneous topics.
Partnering with voice actor Jason Stephens, they have also created multiple series with celebrities such as Christopher Walken, Morgan Freeman, and then-President Obama appearing to play or narrate video games. These videos were collectively known as "Walkenthroughs" by the defunct YouTube network Machinima, which the the series was produced for.
While they are known as the Game Society Pimps today, their channel was previously known as "Game Society" and "Game Society Films".
Aaron Yonda
Edit

Aaron Yonda is the costar commentator of the Game Society Pimps and editor for the 7 Days to Die series. Aside from working on his gaming channel, he produced Chad Vader: Day Shift Manager and is currently producing Beer and Board Games with the Blame Society Films.
Emre Cihangir
Edit

Emre Cihangir is the costar commentator of the Game Society Pimps and is the main editor for the Game Society Pimps.
Adam Koralik
Edit

Adam Koralik is a producer for the Game Society Pimps and works on the business side of the organization. He is often the member commenting on the YouTube page and also the member who travels to conferences as a representative for the Game Society Pimps. Adam has his own YouTube channel, where he discusses current gaming trends and retro gaming focusing on home consoles.
Jason Stephens
Edit

Jason Stephen is a voice impersonator and owner of Jason's Voices. He provides voices of Christopher Walken, Morgan Freeman, Barack Obama, and many more for the Game Society Pimps. Aside from his work with the Game Society Pimps, he has voiced for The Tonight Show Starring Jimmy Fallon and various television advertisements.

Kay is a moderator for the Live Show and the social media arm of the channel since early 2019. She appears as GameSociety2 on the live stream chat. Not to be mistaken with Kat, who is Emre's fiancée.
Lucas Fauble
Edit
Lucas Fauble (known online as "Lucas TheChin") is an editor for the Game Society Pimps and has edited many of the clips including episodes from Disneyland Adventures, Gang Beasts, and the Obama Plays. Adam calls him the silent GSP member.[1]
In 2011, Aaron, Adam, and Emre co-founded a gaming channel called Game Society Films. The channel first began as a collaboration between Aaron from Blame Society Films and Adam and Emre from FigureItOut Productions. Most of their earlier videos began as game reviews, taking full use of Adam's vast video game collection. Their first gameplay (on Game Society Films) was a Gears of War 3 playthrough.[2]
In the fall of 2012, the trio shut down the Game Society Films channel and moved most of their content to their new channel they called the Game Society Pimps. YouTube had demonetized their previous channel, which they had later explained to be erroneous but the streaming giant was unable or unwilling to correct this mistake. The trio created a new channel and signed their new channel with a multi-channel network Machinima (Wikipedia), which they believed would be able to provide better representation going forward.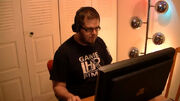 In 2015, the Game Society Pimps began their fan-interactive Live Shows on YouTube. The live shows largely replaced Guys Vs Games and After Dark as the catch-all series for various gameplays not intended to become a series. Aaron and Emre played and commentated on games, while Adam managed the communication between the fans and the hosts.
In early 2017, the channel dropped "Pimps" from their name, citing a YouTube crisis for content creators commonly known as "Adpocalypse." (Note: The term "Adpocalypse" itself was popularized in April of 2017 after the channel changed its name.) Many advertisers pulled ads from YouTube and YouTube implemented new policy to appease the advertisers. Much of the Game Society Pimps's content were demonetized due to offensive content. They re-branded themselves as "Game Society" and created a new logo although they still went by the name "Game Society Pimps" and "GSP" on a regular basis.
On June 29, 2018, the channel made an announcement on various social media platforms that their channel name will return to their original "Game Society Pimps."[3][4][5]
On July 31, 2018, the Game Society Pimps re-launched their Twitch channel with a gameplay of Sea of Thieves and expanded their Live Show from once a week to three times a week. Twitch streams are uploaded and archived on the Game Society Pimps' second channel Game Society 2.
On January 23, 2019, Aaron and Emre announced in a Live Show that Adam would be taking a leave of absence from the channel to work on personal projects for an indeterminate amount of time.[6] Starting from the next Live Show, Kay took over the role of moderator and later became in charge of social media.
In early 2019, due to reorganization and dissolution of Machinima into Otter Media, the Game Society Pimps, along with many other content creators have made their switch to Fullscreen, another MCN under the Otter Media company.
Achievements
Edit
In late 2013, Game Society Pimps reached 100,000 subscribers on YouTube.[7]
In May of 2014, the Game Society Pimps YouTube channel reached 200,000 subscribers.[8]
In July of 2014, the Game Society Pimps received a "verified" status on their Facebook fan page, allowing them to rename their page to the "Game Society Pimps" from their previous name "Game Society Films."[9]
Their YouTube channel reached 400,000 subscribers in December of 2015.[10]
Production history
Edit
In late 2011, members of the Game Society Pimps piloted Skyrim For Pimps, an epic tale of zany protagonists marketed as "a very special kind of walkthrough." The show has become one of the most popular series on the channel, continuing for six seasons and going onto its seventh season.
One of their earlier projects to note was Top Ten FPS, a series introducing their favorite first person shooter games, which became an instant classic among the Game Society Pimps fans.
In early 2012, members of the Game Society Pimps partnered with Wisconsin-based voice actor Jason Stephens and created the Christopher Walkenthrough, a series in which Christopher Walken plays various video games and makes video game commentary.
Around this time, the trio started playing low cost hunting games. The concept of "father" (played by Aaron) and "son" (played by Emre) was later adopted when they began playing Cabela's titles. The series is collectively known as the Angry Hunter.
In the spring of 2012, Aaron, Adam, and Emre launched After Dark, a compilation of video games playthroughs not suitable for children, and Video Game Lunch (which later evolved into Guys Vs Games), a catch-all series in which members of the Game Society Pimps would causally play video games.
Following the success of the Skyrim For Pimps series, in late 2012, they launched Fallout For Pimps. Similar to Skyrim, the game Fallout 3 provided the Game Society Pimps a chance to tell an comedic story with its sandbox open-world interactive gameplay.
In mid 2013, Adam forced Aaron to play Disneyland Adventures for the Kinect. Since its launch, the game has become one of the top requested games among fans as Aaron shows extreme displeasure being part of the magical adventure. The gameplay is usually accompanied by Adam's crude vocal impressions of Disney characters, most frequently Mickey and Stitch, adding further to Aaron's pain and suffering. The series has been discontinued multiple times citing Aaron's high levels of dissatisfaction. Fortunately, fans of the show can crowdfund the completion of the game on their Patreon page.[11] Link to their Patreon page can be found here.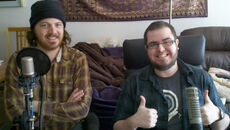 In September 2013, Grand Theft Auto V was released. The Game Society Pimps created a series called GTA For Pimps, in which Aaron plays as a former heist man named Michael, who is having a mid-life crisis. He becomes an owner of Hookies, a family restaurant overrun by biker gangs. Later, multiplayer functionality is added to the game and Aaron and Emre play with their fans.
Starting in late 2013 but continuing onto 2014, Aaron and Emre played Ride to Hell: Retribution, a game that got a 19 out of 100 on Metacritic for the PC version, a user score of 1.3 out of 10 and made Wikipedia's list of video games notable for negative reception. They describe this as the worst game that also almost destroyed their company. For more on the series, see Ride to Hell Retribution (series).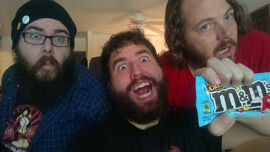 Also around late 2013 to 2014, their successes with Christopher Walkenthrough prompted members of the Game Society Pimps and their partner Jason Stephens to create Morgan Freeman Storytime, a series in which Morgan Freeman narrates a story similar to how he narrated the life of Andy Dufresne in Shawshank Redemption, and Presidential Gamers, in which then-President Obama tries to promote his healthcare website Healthcare.gov in online multiplayer games.
In the spring of 2014, Aaron and Emre start a series playing a game called 7 Days to Die, an open world survival game early in development. They play the roles of mad scientist and zealot respectively. While the role of editor falls to Emre for most of the content on the Game Society Pimps channel, the 7 Days to Die series is edited by Aaron. Although initially the edits were not aggressive, leaving much of the content uncut, edits in later episodes have been more aggressive.
In late 2015, Emre went on hiatus for personal reasons and Adam and Aaron played Far Cry 4 to fill the air. Adam and Aaron had not co-hosted gameplay since the early days of Game Society Films and they engaged in heated banter often calling for Emre to come back. For more on the series, see Far Cry 4 Pimps.
In early 2016, Emre returned from a short hiatus and they began a series known as Far Cry Primal For Pimps. Aaron plays as a prehistoric man named Glug in a prehistoric world. He roams the land of Oros with his not-so-trusty Owl (played by Emre Cihangir).
In mid 2016, Fan funding for the series Ride to Hell Retribution to make its return was reached. Aaron and Emre once again played a video game that almost destroyed their company.
In early 2017, Adam introduced a game called Yakuza 0 to Aaron and Emre marking the beginning of the series, Yakuza 0 For Pimps. Both Aaron and Emre played as one of the two protagonist of the series and, depending on who the protagonists were at the time, their counterpart voiced over the NPCs in the game. Thanks to the chemistry between the game's quirky nature and Game Society Pimps's style of comedy, Yakuza 0 For Pimps had become one of the most popular series among Game Society Pimps fans.
In the spring of 2017, Game Society Pimps released a new series Enderal For Pimps based off of a SureAI's Enderal: The Shards of Order and in the fall of 2017, they released two new series based off of two brand new games: Emre Daddy from the gameplay of Game Grump's Dream Daddy and the series South Park The Fractured But Whole from the game of the same name.
See also
Edit
References
Edit
External links
Edit
Community content is available under
CC-BY-SA
unless otherwise noted.