The Game Society Pimps Podcast also known as the GameSocietyPodcast and Pimpcast is a podcast hosted on various streaming platforms by the members of the Game Society Pimps. When the show launched in 2015, Aaron Yonda, Emre Cihangir, and Adam Koralik appeared on video with voice actor Jason Stephens. The podcast has since become audio-only and the link to the podcast can be found on their Patreon page.
The show is released periodically, most often when a fan of the show redeems a Patreon perk called the "Podcast Pimp."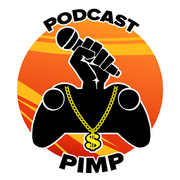 The show focuses on gaming and entertainment. Customarily, the first topic centered around paying tribute to a recent celebrity death. In the middle of the episode, the Game Society Pimps would feature fans who support the show. Some fans would come on the show as part of a Patreon reward.
Episodes with video
Edit
#
Title
Original
airdate
YouTube Link
1
Nimoy Remembered, Ultra Dark Power Rangers - GS-Podcast (E01)
Mar 3, 2015
Link
2
Alien Reboot, H1Z1 Award, Net Neutrality - GS-Podcast (E02)
Mar 3, 2015
Link
3
Zoolander 2, Star Wars, Ghostbusters - GS-Podcast (E03)
Mar 17, 2015
Link
4
Clickbait Good or Bad? HBO NOW, Sony Hacked Daily - GS-Podcast (E04)
Mar 18, 2015
Link
5
Game of Thrones & Star Wars Trailer Reaction & More! GS-Podcast (E05)
Apr 19, 2015
Link
6
Silent Hills Cancelled, GSP STUFF IS SCRIPTED?!? & Games We Want - GS-Podcast (E06)
Apr 23, 2015
Link
7
Fallout 4, Shenmue 3, Final Fantasy 7, Greatest E3 Ever? - GS-Podcast (E07)
Jun 19, 2015
Link
8
Beiber's Clone Fails, Hilarious Pizza, New Games - PAX 2015 Podcast 1
Aug 30, 2015
Link
9
Morgan Freeman Killed a Man, For Honor, Rainbow Six (Gameplay footage) - Game Society Podcast PAX 2
Sep 2, 2015
Link
10
We React to Star Wars The Force Awakens
Dec 21, 2015
Link
#
Title
Original
airdate
YouTube Link
37
GSP Podcast April 2019 - Star Wars IX teaser, GoT, Patreon changes, and more!
Apr 13, 2019
Link
38
Podcast April 2019 - AVENGERS ENDGAME
Apr 28, 2019
Link
39
GSP Podcast - Game of Thrones Battle of Winterfell
Apr 29, 2019
Link
40
GSP Podcast May 2019 - Game of Thrones Finale
May 21, 2019
Link
41
GSP Podcast June 2019 | Ross and Lauran from SuperCoolCast | E3 2019
Jun 20, 2019
Link
#
Title
Original
airdate
YouTube Link
42
GSP Podcast - KEANU REEVES EDITION
Jul 12, 2020
Link
43
GSP Podcast July 26 2020
Jul 26, 2020
Link
References
Edit
External links
Edit
Community content is available under
CC-BY-SA
unless otherwise noted.