Kingdom Come is a comedy series featuring Aaron and Emre playing the medieval action role-playing game Kingdom Come: Deliverance. The game is set in the Kingdom of Bohemia and they play as a young man named Henry.
Characters
Edit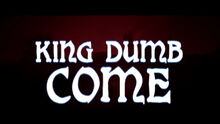 Episode 3 - "Ale Hole"
Edit
"
The opposite of understand is overstand. How have I never thought of that before.
"
  ―Emre
"
If you don't understand something, try overstanding it.
"
  ―Emre
Episode 5 - "Medieval Medical Bills"
Edit
"
That's a flaming cow; that's not my parents.
"
  ―Henry (Emre)
"
This is Teresa's uncle. He's apparently some grave robbing necromancer wannabe or some shit. What is going on? I thought he was a miller.
"
  ―Henry (Emre and Aaron)
"
Shwasted. That's another thing I'm bringing back in 2018
"
  ―Emre
Episode 8 - "It's a Guard's Life"
Edit
"
Very colorful! Yeah, nice mustache! Whoo, sitting on a bench! What's up, townsman! Townswoman! Nobody knows how to have fun in this goddamn town.
"
  ―Henry (Emre and Aaron) as he whistles
#
Title
Original
airdate
YouTube Link
1
"Punching Peasants"
Mar 1, 2018
Link
2
"Hello My Name is Inigo Montoya"
Mar 7, 2018
Link
3
"Ale Hole"
Mar 15, 2018
Link
4
"Meat the Parents"
Mar 23, 2018
Link
5
"Medieval Medical Bills"
Apr 12, 2018
Link
Henry is woken up by Teresa and visits her uncle Miller Peshek, who requests that he be repaid for the medical bills that accumulated while Henry was out cold. He specifically wants to Henry to rob some corpses. So Henry sets off once again to look for a spade and he meets Sir Hanush back at the castle. Later, Henry visits the pub for a drink to get "shwasted" only to find no one there.
6
"Mr. Fancy Pants"
Apr 19, 2018
Link
7
"Ancient Naughty People"
May 5, 2018
Link
8
"It's a Guard's Life"
May 12, 2018
Link
9
"Hilarious Animal Cruelty"
Jun 19, 2018
Link
10
"Prince Wussbag"
Jun 29, 2018
Link
11
"Kill Smil"
Jul 14, 2018
Link
12
Buttsassinated By A Cow
Aug 3, 2018
Link
Henry goes to see Lady Stephanie of Talmberg.
13
"Unkillable Poacher"
Aug 18, 2018
Link
14
"Hot Date with Theresa"
Sep 1, 2018
Link
15
"The Unkillable Man"
Sep 16, 2018
Link
16
"Sleeping With Royalty"
Sep 29, 2018
Link
17
"I Finally Git Gud"
Oct 6, 2018
Link
18
"Theresa Bad Touch"
Oct 20, 2018
Link
First video in GSP history that was premiered. See YouTube Premieres (YouTube Help Website) for more info.
19
CSI: Uzhitz
Nov 3, 2018
Link
20
The Hangover
Nov 17, 2018
Link
21
Pleasuring Theresa
Dec 1, 2018
Link
22
Bro Fight
Dec 8, 2018
Link
23
Super Wurst Friends
Dec 22, 2018
Link
24
Limpy, Reeky, & Timmy Law Offices
Dec 29, 2018
Link
25
Boss Battle
Jan 26, 2018
Link
26
Illegal Corpse Lifting
Mar 2, 2019
Link
27
Grand Theft Deermeat
Mar 16, 2019
Link
28
NOT THE DOG!
Mar 30, 2019
Link
See also
Edit
External links
Edit