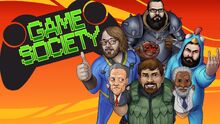 Facebook is one of the primary social network services used by the Game Society Pimps when making announcements to their fans and they will sometimes post videos or live stream through their Facebook Live service. The following is an incomplete list of videos that can be found on the Game Society Pimps and Machinima's public Facebook page.
For live-streaming videos on YouTube, see Live Show.
Facebook Videos
Edit
#
Title
Original
airdate
YouTube Link
-
President Obama reacts to the Game of Thrones Season 5 Finale
Jun 19, 2015
Link
-
Machinima sent us a very lovely box of goodies for Valentine's Day
Feb 19, 2018
Link
-
Cooking a pig head before the show tonight, see the calm before the storm!
Feb 21, 2018
Link
Facebook Live Videos Edit
#
Title
Original
airdate
YouTube Link
-
Meltdown Shopping Network presents #ValveStore LIVE
Mar 27, 2017
Link
-
Thanks for watching that thing we did earlier
Mar 28, 2017
Link
Post Meltdown Shopping Network video
-
Adam Walks to the Hotel, ZOMG!!!!111
Mar 28, 2017
Link
-
The Game Society Pimps are in house to play Blackwake and pretend to be pirates 🏴‍
Mar 29, 2017
Link
-
No title
Mar 30, 2017
Link
Updates after filming the VR video
-
Aaron and Jason at the airport
Mar 30, 2017
Link
-
Still at the fucking airport
Mar 31, 2017
Link
-
Still At Fucking Home
Mar 31, 2017
Link
-
About to Record Angry Hunter
Apr 7, 2017
Link
Behind the scenes of the Angry Hunter episode "Elk Adventure? Wut? - Big Buck Arcade"
-
Battlegrounds Live With Aaron
Apr 8, 2017
Link
Aaron playing PUBG while Adam does Facebook Live. Streamed on the day of Beer and Board Games season 7 episodes 12 and 13 recording "God Hates Charades" and "Vers: The Rap Game."
-
Going outside during thunderstorm because fans told me too
May 17, 2017
Link
-
Packing for trip but got wasted
Jun 21, 2017
Part 1
-
Emre Beard!
Aug 11, 2017
Link
Arby's Meat Mountain
-
Malort - Forced To Drink Demon Booze From Hell
Aug 16, 2017
Link
-
Emre eats Turbo Crust!
Aug 16, 2017
Link
See also
Edit
External
Edit