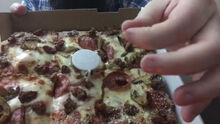 Turbo Crust is a pizza "topping" offered by Michigan-based pizza chain Jet's Pizza. Their restaurants were first known for selling their unique square-shaped pizza. The crust, typically the part of the pizza known to have a bland taste, can be "flavorized" upon request. One of Jet's menu offers the option "Turbo Crust," in which they sprinkle garlic and romano cheese and glaze the crust with butter. One of Game Society's food connoisseur, Emre, highly praises this pizza option.
Turbo Crust mentions
Edit
Below is an incomplete list of times Game Society has mentioned Turbo Crust.
Description
Link with timestamp
On the Aug 16, 2017 live show featuring the video game Hellblade, Emre orders Turbo Crust.[5]
Link
Game Society fans fund Emre to Facebook Live his experience with Turbo Crust.[6][7]
Link 1
Link 2
Emre's girlfriend films his reactions eating the Turbo Crust pizza.[8]
Link
References
Edit
External links
Edit
Community content is available under
CC-BY-SA
unless otherwise noted.